Lomatium
Lomatium is a herb related to the carrot and celery family, and is native to the western part America (USA). It is also commonly known as indian parsley, indian carrot, desert parsley and biscuit root. In the past, it was used by the Native Americans (especially the Okanagan, Yakama and Washoe people) as a medicinal remedy and a source of nourishment.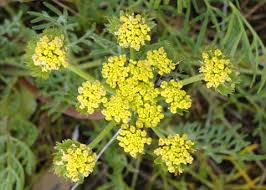 The lomatium root was first peeled, then dried and ground to make flour. The seeds were either eaten raw or roasted. Nowadays this herb is no longer used for culinary purposes, but the dried root is used to prepare infusions, decoctions and tinctures.
Benefits of Lomatium
Respiratory Infections – It can be used for infections of the upper respiratory tract, such as bronchitis and asthma.
Antiviral – Some use it as an antiviral remedy to treat colds, coughs, and flu. It is also known for supporting the immune system and reducing inflammation. This study showed that it inhibited the cytopathic effects of rotavirus. It may also be used for shingles, mononucleosis and epstein barr.
Anti Inflammatory – Lomatium's anti-inflammatory properties can help to decrease swollen joints, and reduce edema. It may also be useful for urinary tract and bladder infections.
Cautions
Lomatium may cause a skin rash in some people. It may also intensify the effects of anticoagulants (blood thinners) and immunostimulants. Do not take if pregnant. Before treatment, please consult a knowledgeable medical herbalist or a doctor.
Type of products available
Lomatium Tincture – Holistically Balanced so that the constituents of the extract are in the same synergistic ratios as in the plant.
Lomatium Seeds – Lomatium Macrocarpum seeds, The height will be: 20-50cm. Common Name: Bigseed lomatium, Biscuit root, Bigseed Biscuitroot, Large-fruited desert parsley – Family: APIACEAE